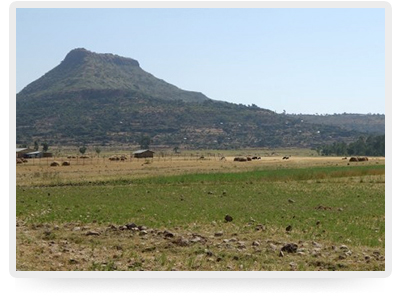 In November 2015 a new archaeological project led by UCLA Prof. Willeke Wendrich started in Tigray, the northernmost region of Ethiopia. The purpose of the project is to better understand the pre-Axumite period in relation to theories of state formation and the development of agriculture through survey, excavation and ethnoarchaeology. The project collaborates closely with the local communities and faculty and students of the Universities of Axum and Addis Ababa. At an event in January 2016, Prof. Wendrich discussed the new archaeological project in Ethiopia, the Ethiopia-Shire Archaeological Project, and the upcoming launch of the 2016 Field School (see Field Schools).
The project and field school involve excavation at the site of Mai Adrasha in the Tigray region. Located 50 kilometers west of Axum (the nearest airport), the Mai Adrasha site is virtually unexplored to date, even though it is the ancient capital of the Aksumite Kingdom (1st to 6th century CE). The society's economic base of agriculture and trade resulted in close contact with the North, and adoption of early Christianity. The research area consists of almost 100 square kilometers and is located east of the modern city of Inda Selassie (also known as Shire).
The Ethiopia-Shire Archaeological Project focuses on the interactions between this important sub-Saharan region and the Greco-Roman world, especially during the pre-Aksumite period. In addition to survey and intensive excavations, students have the opportunity to participate in community outreach and assist with crucial site management. The UCLA project concession is comprised of extensive ancient remains dating from the prehistoric to the medieval period and it includes two large sites, Mai Adrasha and Mezaber Adi Menaber. Mai Adrasha, where the 2016 season will take place, is a site under threat of destruction due to continuing panning for natural gold by the local population.
UC Catalyst Personnel: